Fifth Third Bank: Excelling at Climate Risk Management
Winner of the Celent Model Risk Manager Award for Responding to Emerging Risks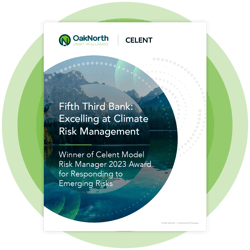 ON Credit Intelligence customer, Fifth Third Bank has earned a Model Risk Manager award in recognition of their capabilities to identify, monitor, and manage climate risk in their commercial loan book with ON Climate.
Access the Celent Case Study to learn how a culmination of people, strategy, data, and technology has supported Fifth Third Bank to:
Take early action on impending regulatory expectations, and meet investor and customer pressures to make climate risk assessment an integral part of their overall risk management framework.
Guide future conversations with commercial borrowers and support the bank's climate leadership through disclosure.
Easily onboard ON Climate, providing them with immediate and actionable intelligence on the impact of transition risks to their C&I portfolio.