The Ultimate Guide to Commercial Lending & Climate Risk
Climate change is a $145 billion risk. And a $9.2 trillion opportunity. Are you prepared?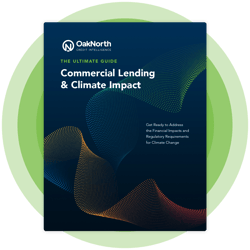 The opportunity to address climate risk is now - before regulations demand it and before your portfolio is negatively impacted by ongoing US weather disasters with staggering annual costs of $2.1T, and changing consumer demands, technological disruption, and policy.
Access the Ultimate Climate Guide for an action plan to get started and seize the opportunity today, including:
Regulatory & risk challenges
Growth opportunities
Your banks' climate preparedness score
Data & assessment imperatives
Identify, quantify & report on climate risk